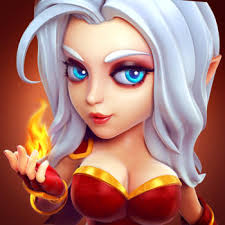 [END_IMAGE]
What is Soul Hunters?
Step into a land cursed by a mysterious darkness, collect and advance Heroes such as; a rugged dwarf tank, a noble vampire, and a deadly Egyptian queen to form a party and overcome all who stand in your way and threaten the eight kingdoms.
8/24 "Most addictive game on the App Store. Can't stop playing"
8/24 "There are so many contents that users can enjoy without paying much cash, and even though this game had made not long ago, many contents has updated."
Video Soul Hunters Game Review
BECOME A LEGEND
-A dark curse has been cast upon the kingdoms and it's up to YOU to Unite the Heroes and Break the Curse!
-Soul Hunters is an innovative Hero Collection RPG combining real-time strategy (RTS)!

UNIQUE HEROES
-Collect 80+ Heroes of varying types, including brute force fighters, skilled ranged combatants and masters of magic

PVP BATTLES
-Compete in unique PVP modes to earn prestige and powerful rewards
-Put your team to the ultimate test by battling friends via Bluetooth

IMMERSIVE EXPERIENCE
- Real-time combat with captivating visual effects and extremely deep strategic gameplay
- Explore mysterious and magical lands to find and collect new Heroes in a captivating campaign

MASTER TACTICS
- Create the perfectly balanced party to overcome the most powerful foes and legions
- Unlock, upgrade, and master your Hero's abilities to protect your allies, interrupt your opponents, or deal massive damage
More
Hide